Learning Network
Patients Helping Patients
Patients who have been through the GLA:D program have learned many things about how to manage osteoarthritis (OA) and maintain their quality of life including: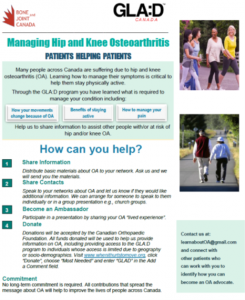 What is Osteoarthritis
Benefits of Staying Physically Active
Importance of Weight Management
Relationship to Pain
There are millions of people in Canada who have osteoarthritis and who have not been diagnosed or offered access to effective treatments. The GLA:D patients are therefore working closely with us to develop a coordinated strategy to provide education on OA to encourage people to seek the care they need and to provide hope. This information will include how to access:
A diagnosis
Education on how to self-manage their condition
Neuromuscular exercise to strengthen their muscles and use good movement patterns that reduce symptoms
Other effective treatments that help with them remain physically active

How Can You Help?
There are a number of ways you can help us to share information and improve the lives for people with hip and/or knee OA. All you need to do is contact us through LearnaboutOA@gmail.com and we will work with you to disseminate the message through:
Written materials – Materials with evidence-based message about OA are available. We can provide you with flyers and pamphlets that can be shared with family, friends, colleagues and to community organizations such as members of clubs or organizations.
Meetings and presentations – We are available for meetings and to complete presentations to groups that would be interested (e.g., church groups, your workplace, professional organizations, retirement groups, clubs etc.). The presentation would be completed by a clinician, to present the evidence and answer questions, and a patient who can share their experience with OA.
Donations – By donating to the GLA:D program through the Canadian Orthopaedic Foundation, a registered charitable organization, you will help us provide evidence-based research and information on OA and the GLA:D program to individuals who currently do not have access to resources or programs due to their geographic location or socio-demographics. Click here to donate. Choose "Most Needed", and enter "GLA:D" in the Add a Comment field.
To learn more about the strategy and help us to help people "learn about OA" contact us at LearnaboutOA@gmail.com
Let's build this Learning Network to set up a Patients Helping Patients OA Community!