Managing Hip and Knee Osteoarthritis
Osteoarthritis affects millions of people across Canada preventing them from being active and doing the things they enjoy.
Education sessions have been developed for people who want more information about hip and knee OA either for themselves, or to support someone living with OA. The sessions provide information to help with the diagnosis and management of OA with a focus on remaining as active as possible. Information is provided on:
What is OA?
How do I know I have OA?
What can I do about my OA?
What treatments work for people with OA?
The 2 sessions are provided by a therapist and a person who lives with OA. They are 45 mins long with time given throughout to answer questions so that we can help you do the things you enjoy. To register for the sessions, please go to the registration page.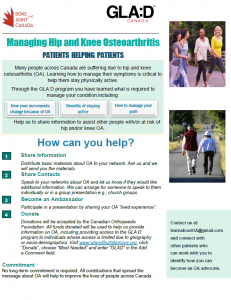 Virtual GLA:D 
The GLA:D® program is an education and exercise program which promotes independence in physical activity. Many GLA:D trained clinicians are providing the program for people in their own homes through visual technology on their smartphones, tablets or laptops. The program may be all virtual or may include some in person and some virtual sessions to help you set up the program in your home.
We have provided some information here to help you decide if virtual care is appropriate for you.
Our locations page identifies which clinics provide the program virtually, however this changes so contact your local clinic to confirm. Remember that if you want to take all the sessions at home then you can attend a program anywhere in the province that you live in. So phone around to check the costs and schedules.
If you have any questions about virtual care contact the GLA:D™ Canada national team at  gladcanada.info@gmail.com for more information.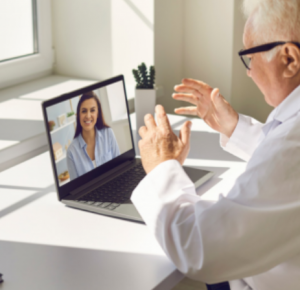 ---
2020 GLA:D Annual Report 
The GLAD Annual Report provides the results of the program through 2020. It was a busy year related to the COVID 19 pandemic which resulted in the need for the certification of clinicians and the patients program to be transitioned from an in person format to virtual care.
Results showed that the program continued to grow through the year with:
Sites Results:
– 1377 trained by the end of 2020 of which 78% were physiotherapists
– 333 sites across Canada offering the program in 9 provinces
– 5228 patient enrolled in the program including 318 that had some virtual care experience
Patient Results:
– over 83% of patient finding the program beneficial of very beneficial
– 90% of patients using the education at least once per week
– over half of patients reporting a clinical meaningful change in their function and quality of life
– approximately 70% showing significant improvement in their function
---
---
GLA:D® is an evidence-based program for treatment and management of osteoarthritic symptoms. GLA:D™ Canada is licensed to the Canadian Orthopaedic Foundation. It is currently being implemented by Bone and Joint Canada, a knowledge translation division of the Canadian Orthopaedic Foundation.